London as a Christmas destination has a completely different vibe. It has moments of pure magic, even though I'm not a huge fan. Few places on Earth have the christmassy spirit so alive and kicking!
Oh Christmas. The red, gold and silver. The hollow messages about peace and love singed in the carols. The tacky tinsels. The over marketed crappy stuff on the stores. Christians hijacking what is essentially a pagan festival. And the light displays. Oh god, the cheesy lights everywhere.
I have always thought of Christmas time as a good time: a kind, forgiving, charitable, pleasant time: the only time I know of, in the long calendar of the year, when men and women seem by one consent to open their shut-up hearts freely.

Charles Dickens
Maybe I am being too harsh, let me get this straight: I am not anti-Christmas.  At least not anymore. But I am definitely not a HUGE XMAS FAN GETTING OVERLY EXCITED DURING THE MONTH OF DECEMBER either. I just think it is a happy time and I likehappy times!
Impossible not to feel happiness arriving Gatwick airport in late November. I got there pretty much imune to all Christmas crap.. and then I started seeing this:
And this.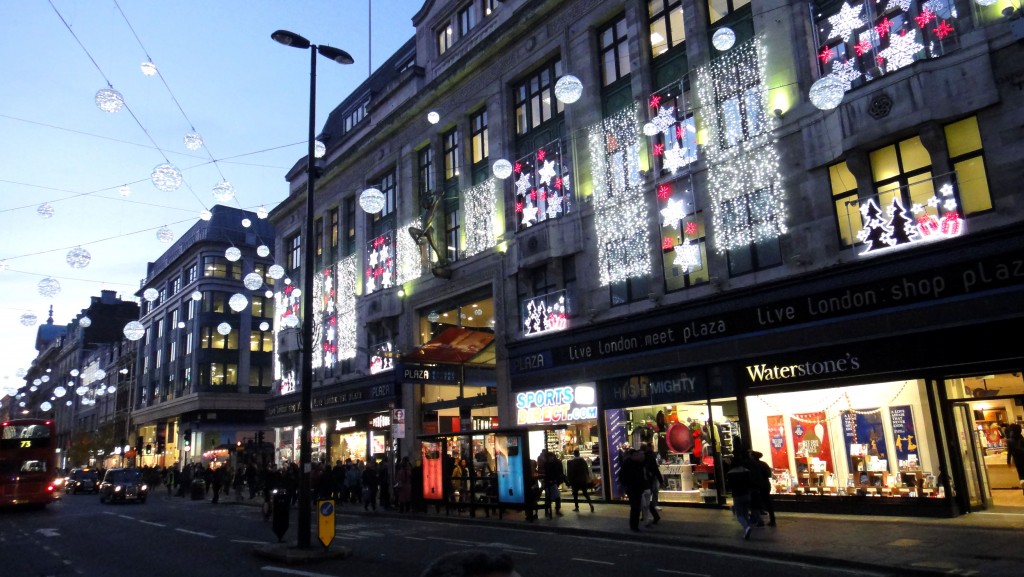 And then this.
It took me only a few hours walking around the streets on center London to surrender to the magic of Christmas. What could I do? Everyone had a smile on their faces and the whole city was dressed up accordingly, so the truth is it wasn't hard at all to get my Christmas excitement on a all-time high.
One thing I loved about London was the huge amount of ice rinks scattered by the city, the majority of them strategically placed within the urban landscape to maximize the wow factor. My favorite was the ice rink at Natural History Museum:
The days passed, the sun went away and gave place to cold rainy days which even added more to the christmassy feeling. Like this was not enough, everything in London in this time of the year says Christmas. Everywhere you look there is something to grab your attention and the competition among big department stores is ferocious to give customers the best experience possible and ultimately boost up their sales. Like the over the top lighting of Harrods.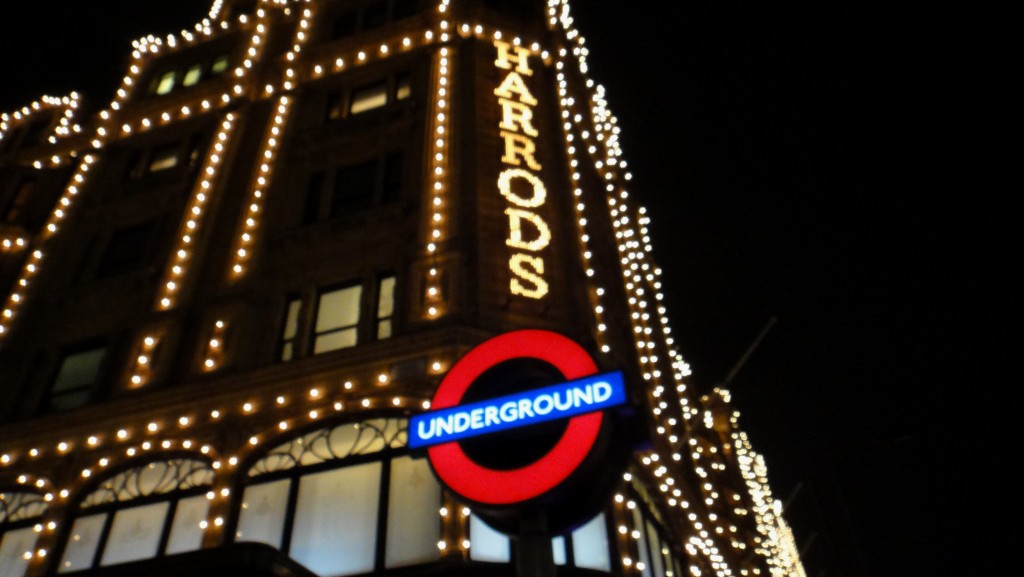 Or Hamleys located in the busy Regent St. My peak of hysteria happened here when I found myself almost running around through the live display of toys across the seven floors of this HUGE toy store, which is also the oldest in the world. I seriously felt like a hyperactive child all over again wanting to buy ALL the things!
Still, the jaw-dropping moment took place in Covent Garden. First time I had been in London I was not even impressed at all by the market there, but this time I was blown away how it did come alive with the apple decoration, the lights and the overall buzz of the place. Did not want to leave this place so lovely it is!
Is Christmas over marketed? Hell yes. People spend ridiculous amount of money to play the "Let's impress our families" game? Definitely. If you ask me, I prefer to live London on a budget.
Nevertheless, I believe there is still room for a little Christmas magic and even more there are some places where this time of the year is taken to a whole other level. London is undoubtedly one of these. It is impossible not to get infected by the Christmas virus here; at some point you will give up and decide to go with the flow, feeding your soul with some of the amazing energy this city has to bring. Look what this city made to me: now all I want for Christmas is London!
LONDON MINI TRAVEL GUIDE
London location on the map
The city of London is located in south England. It's the social, cultural and political capital of United Kingdom and one the largest and most important cities in the world.
How to get to London
London has possibly the best airline connections in the world. Not only avery major worldwide company flies there, but also all every european low cost companies, such as Ryanair, EasyJet have hundreds of routes from London's four (!) airports: Gatwick, Heathrow, Stansted and Luton.
How to find cheap accommodation in London
"Cheap" and "London" are usually two words that don't go that well. Hotels are pricey and many of them don't tick all the boxes in what refers to quality standards. The result: you might be entering a hell of a quest to find a good value-for-money deal in the city!
Use Booking.com for this. It helps you easily filter out rooms based on your personal preferences. But I've made it easy for you: I've pre-selected the hotels with 7+ review score in Central London. Just click here to see the list of hotels..
How much time is needed to visit London
London is a huge city, full of tourist attractions, many of them surprisingly free (British Museum is a must!). You'll need at least three full days to start scratching the surface of the London world.
For the original article, visit Bruno's blog, article: London as a Christmas Destination : Why It'll Rock Your World