You should always plan your trip around at least one festival. If you really want to see how the locals live life, you will find them at their best during their biggest celebrations. The feeling of connection between you and the locals is unsurpassable when you realize that everyone in the world really wants the same thing: to enjoy life and just have fun. My favorite festivals are the ones where you aren't on the sidelines taking pictures, but rather fully literally covered in the madness. These are five of the best festivals around the world to get dirty.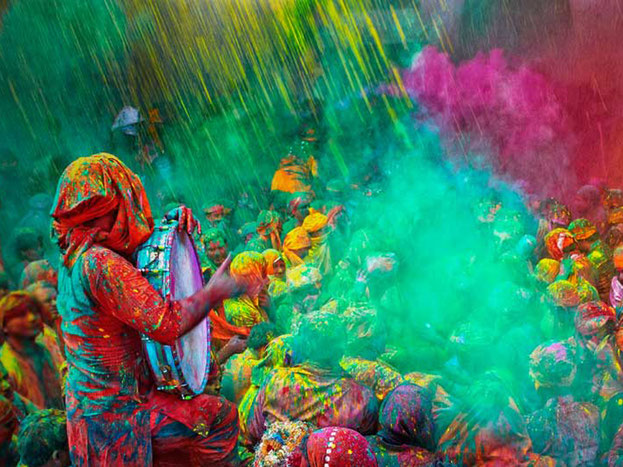 Holi is celebrated the day after the full moon in March of each year in India and it also known as the festival of colors. Every year celebrators smear colored powder on each other's faces, shoot colored water from water guns, throw water balloons, drink a marijuana laced beverage known as bhang and dance their asses off. Absolutely no one is spared: friends, tourists, bus drivers, old people, motorcyclists, etc., will all look like they were attacked by a rainbow by mid-morning. The celebration takes place all over India and Nepal. In recent times it has even spread to Europe and North America. Holi gets its name from Krisha, a Hindu God that liked to play pranks on the village girls by drenching them in water and colors.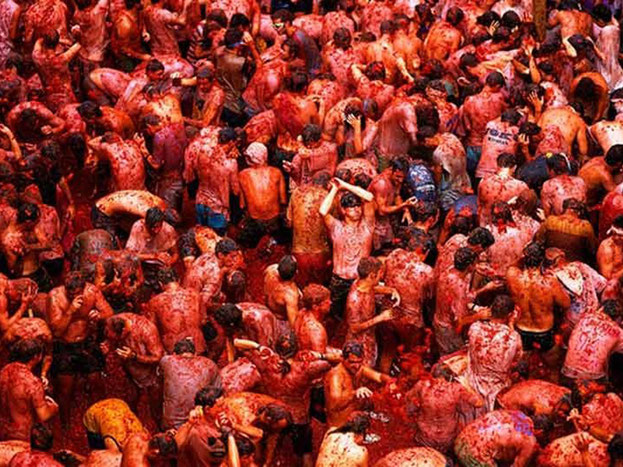 This one is celebrated purely for fun! In the town on Buñol, Spain, festival lovers throw tomatoes at each other for an hour and literally paint the town red. It has been happening since 1945, when someone fell from a float during a parade and started hitting everything in his path in a rage. He knocked over a vegetable stand, pissed off everyone around him, and the crowd started throwing tomatoes at each other until the police had to end the food fight. It is now more of a coordinated rowdiness that you have to purchase tickets for, but is still open to tourists. It takes place on the last Wednesday of August every year.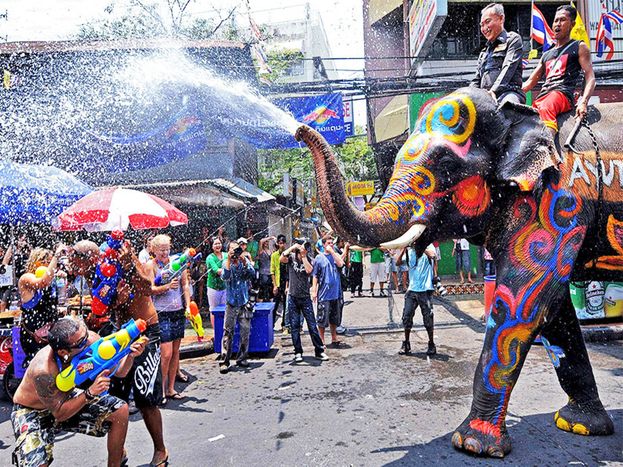 Songkran is the Thai New Year celebration where the entire country turns into a giant three-day water fight, proving that our inner five year olds are still alive and kicking. It traditionally takes place from April 13th to April 15th, but don't be fooled, it starts extra early outside the main cities. Men, women, children, locals, and tourists all spend the day shooting each other with water guns, splashing cars and bikes with water from buckets, drinking copious amounts of alcohol, and partying with live music. The water symbolizes good luck, but when asked why exactly they do it, Thai people will simply tell you because it's fun.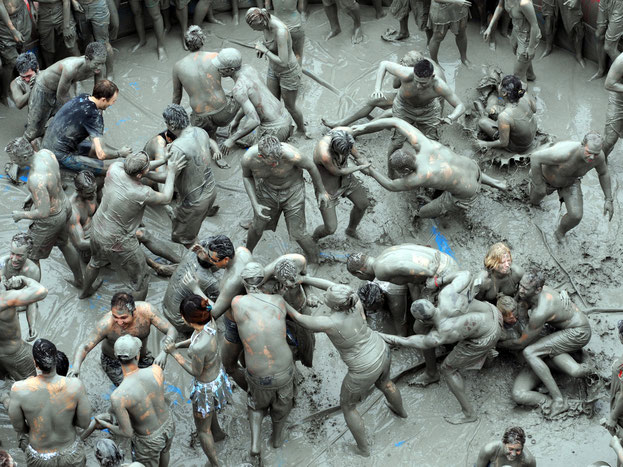 This is possibly one of the best advertising gimmicks of all time. The mud originates from the Boryeong mud flats and is considered rich in minerals, healthy for the skin, and used to manufacture cosmetics. The festival was created to promote these cosmetics. Every year, locals and tourists alike cover themselves in mud, throw mud at each other, mud wrestle, jump on mud trampolines, and slip down mud slides. The event takes place in July in the town of Boryeong, which happens to have a nice beach you can party on and wash off in the water when you start turning to stone. Concerts go down at night and the best part of this celebration is that it lasts for TWO WEEKS!
Haro Wine Festival – Spain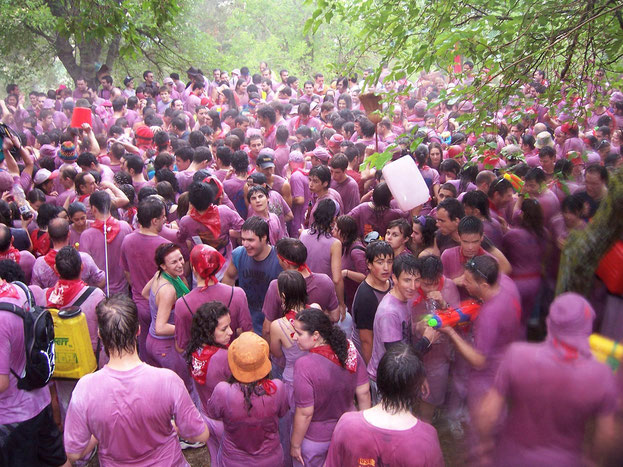 Funny to see Spain on here twice, but in all honesty, Spain takes the cake when it comes to dirty festivals. The Haro Wine Festial (aka La Batalla de Vino – The Wine Battle) takes place every June 29th in the town of Haro, Spain. It begins at 7:00 am when the town's mayor leads the crowd by horseback through the town to the Cliffs of Bilibio, where mass is celebrated and quickly turns into a wine war. Locals and tourists all dressed in white splash wine from bottles, jugs, hoses, and water guns on each other until everyone is soaking, pink, and presumably very drunk. At noon, the crowd heads off to a bullring where the children chase heifers for a while, then they all go party. Brilliant!